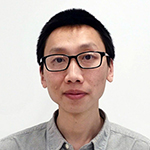 Bio-inspired Computing with Emerging Memory
I am an Assistant Professor in Department of Electrical and Electronic Engineering, the University of Hong Kong. Prior to joining HKU, I was a postdoc research associate at the University of Massachusetts Amherst, working with Prof. Joshua Jianhua Yang (USC page) and Prof. Qiangfei Xia (UMass page). I received both B. Eng (First-class Honor) and Ph.D. from Nanyang Technological University in Singapore, working with Prof. Hongyu Yu (SUSTC page), Prof. Haibin Su (HKUST page), and Prof. Kin Leong Pey (SUTD page).

My research interest lies on bio-inspired computing with emerging memory, focusing on neuromorphic systems, machine learning accelerators, and resistive switching physics. We tackle the research from nanofabrication, atomistic modeling, PCB/chip design, and algorithms. See the research page or scroll down for more details.

We currently have multiple openings for both graduate students and postdocs. Please email me at zrwang@eee.hku.hk if you are interested in joining us.